CUSTOMER WEBSITES FOR PROFILE AND ADVERTISING COMPANIES
Powerful and cost-effective client websites with outstanding performance
Welcome to our advanced solution for client websites in the profile and advertising industry. With a focus on performance, customization, and cost-effectiveness, Qala is an option for those of you who manage websites for your clients.
Frustrated with piecing everything together with different solutions?
Do you have a solution for the smaller clients, and a completely different and significantly more expensive solution for the larger ones?
This can easily create frustration for your administrators and make it difficult to create various package offers for your clients. The gap between the different solutions simply becomes too big.
With Qala, you can create a unified solution that makes it easier for you to offer various package deals while also reducing administrative time.
Tired of repeatedly not being able to meet customers' wishes or requirements?
Do you constantly have to compromise due to the limited technical capabilities of your current solution?
Do you see other players in the industry offering customized platforms where their clients can choose exactly how their client websites should look?
Explore how our solution can help you cater to each customer's unique needs.
Qala is the solution to your problems
For several years, we have worked on developing a solution so our customers can get a good night's sleep and not wake up with a lump in their throat.
Here, no compromises are needed, whether it concerns functionality or technical capabilities.
Through our solution, those of you who manage client websites will have access to an e-commerce solution that is either customized or standardized, with complete cost control for each shop.
Now you can finally match your clients' specific needs and brand identity.
Maximize your website performance
With our Performance Guarantee, we can achieve a page speed of up to 90+. Increase your website speed and give your visitors a lightning-fast and smooth experience.
Cost efficiency
For every set of 10 multisite instances you add, only 2 hours of development per month are added. This leads to a predictable and cost-effective solution that frees you from concerns over inflated monthly costs when you want to launch more websites.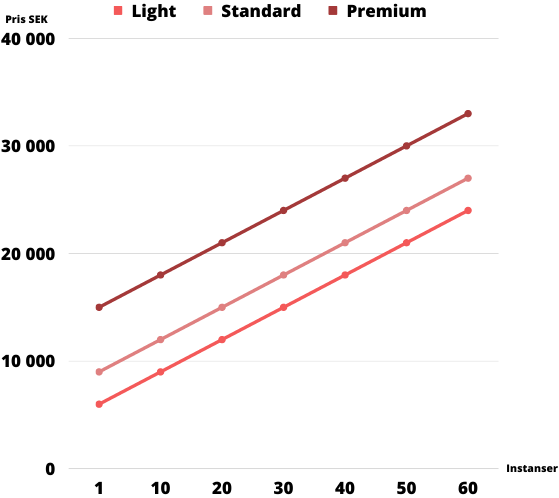 PunchOut solutions for seamless integration
PunchOut solutions are an advanced feature in our system that enables seamless integration between your client websites and the clients' purchasing systems.
This means that their staff or members can search, select, and order products directly from your webshop, without having to switch platforms. It saves time and reduces manual processes, resulting in increased efficiency and more satisfied customers.
Complete overview and control
For managers, it's crucial to have full control and insight into the company's operations. This includes an overview of what the staff orders and at what costs. This is where our custom-made plugin comes into play.

Our plugin is designed to provide managers with a comprehensive view of every order, ensure optimal use of resources, and supply the necessary information for effective decision-making processes.

For those in charge of finances who need up-to-date information on inventory levels, our plugin offers financial managers detailed data on exactly how much is left in stock.
With our plugin, you can ensure efficiency, transparency, and control for your customers.
On-demand orders for quick delivery of branded products.
We understand that quick delivery is crucial for your customers. Our customer websites support on-demand ordering functionality as long as your business system supports it, meaning your customers can order products whenever they're needed.
Warehouse storage for secure storage of promotional products.
Inventory management is an essential feature you want to offer your clients. Our solutions support various inventory management systems to provide a secure and efficient solution for your customers.
Economic automation for easy management of payments and invoices
Customer-specific reports directly into your business system? No problem! We have extensive experience in financial automation and can address your needs with tailored solutions.
The right solution for you and your customers
By offering customized websites, you can build stronger customer relationships and increase the value of your company. Qala can assist you in becoming the obvious purchasing channel for your customers' profile and advertising products.
Selected cases for customer web solutions
FAQ
The hourly rate is too high/higher than what we pay now
We are an experienced international agency. Our development team consists mainly of senior developers who can handle complex issues and quickly resolve problems thanks to their experience. The faster we can solve your problem, the less you pay, which is balanced out with a lower hourly rate but more junior staff who need more time. You only pay for the time we use. Moreover, we don't charge for our customer service or quality assurance, which means we can be proactive and provide you with expert advice at no extra cost.
We don't want to be locked in
The reason we love WordPress is because of its open-source community. With WordPress, unlike custom CMS, you're never truly locked in because it's open-source. You can leave Angry Creative at any time (notice periods and costs are specified in the contract) and take your website with you. What you no longer receive is access to our updates and new features.
We want to be 100% sure about what we're getting and how much it will cost
Depending on your inquiry, we will either conduct a workshop or a survey to ascertain your needs and plan for delivery. Our estimates are based on experience, so they are not guesses, but experience also shows that one never knows what might come up. Our estimates account for this to some extent. The budget will be communicated to you at every step with various options presented.
How many rounds of design feedback will we receive?
As part of the fixed price for the Qala project, we plan for two rounds of feedback. Due to the kickoff meeting we will have with you before we start, and our experience, we rarely exceed this. If more is needed, we will estimate how much additional time is required so you have something to refer to.
We want access to our code
We keep your website safe and stable at all times. As part of our maintenance package, you pay a fixed fee every month for us to take full responsibility for this. If others have access to the code, we can't determine where a fault may have originated nor guarantee that the issue will be resolved.
We can buy a theme/website cheaper elsewhere
You get what you pay for. With Qala, you receive several years of experience, best practices, user testing, and customized features that aren't available elsewhere. You also get access to updates and new features as they are released.
Talk to us about which solution suits you
Talk to our solution expert, Amy Slade, to see how we can assist you.
How we work
The Angry customer experience
Our process is well proven after hundreds of web projects. We take your project from start to finish and then help you with the whole to lift your business.
Working with agile projects
We advocate an iterative work process, dividing the project into so-called "sprints".
Workshops, why?
For the work of establishing what we are going to do for you as a customer, workshops can be used together with you, where we write user stories and get a whole of the project.
Time to take the next step towards a more effective website?
Contact us, and we can talk more about how we can take your business to the next level together.