Every year, BIMA — the voice of the digital and tech community in the UK — celebrates 100 of the people leading the industry right now. This year, we are delighted that Anwen Williams, and the amazing work she's done with codebar, has been awarded a place on the prestigious BIMA 100 list.
Anwen has been named a Champion For Change, for her part in creating hundreds of opportunities for people from underrepresented groups to learn coding skills and enter careers in tech, through free codebar workshops. The local codebar chapter is a thriving community run by volunteers, and Anwen has been part of the organising team since June 2018.
Anwen has reflected on her journey:
"My own journey to becoming a developer started as a codebar student in 2017, going to weekly workshops and being able to tap into knowledge and, importantly, encouragement from the brilliant coaches, who helped me believe this was a possible career path."
It was important to me to contribute to this wonderful community that had given me so much, to allow others to keep benefitting in the same way — so I joined the codebar team!
Being one of the BIMA 100 Champions For Change is a huge honour. I'm really proud of the opportunity that codebar provides, and it's rewarding to see that recognised."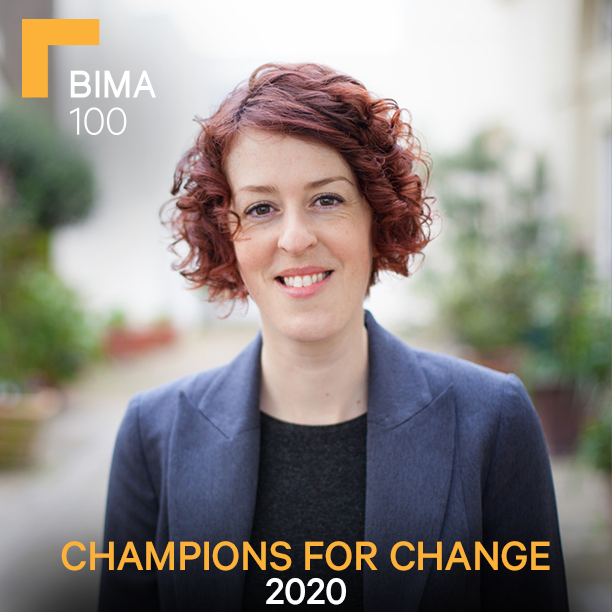 We have supported codebar for a number of years, providing a venue for their workshops and sponsoring pizza for attendees. As a company, hosting workshops is a fantastic, informal way of meeting local talent, and for them to find out about you. We've been lucky enough to work with a number of codebar graduates (including Anwen!) and are always super impressed with the level of experience and industry understanding the codebar alumni have. The combination of hands-on coding mentorship, plus the social-side of the events, helps break down the barriers to the industry and provides a direct route into a new career.
As an employer aiming for a diverse workforce, it's not good enough for us to say, "The reason we have a predominantly white, male technical team is because we don't get applicants from underrepresented groups". Codabar shows that there are hundreds of people looking to get into the tech industry from diverse backgrounds, so it's our job to make sure we're not just looking for talent in the traditional places. If we don't challenge how we're approaching hiring, and making changes to be more inclusive, why should we expect our team diversity to change?
Codebar are always looking for coaches to support the attendees through their coding journey, which can be a really rewarding and enjoyable experience. You don't need to be a senior developer to join in — we have developers of all levels who go along to coach and, as a relatively non-technical person, our People Operations Director, Tom Chute, was able to provide guidance on applying for roles and presenting portfolios to potential employers.
Workshops are currently being run remotely, in response to the Coronavirus situation, and you can check out upcoming events on their website or email [email protected] for more information. There's always a waiting list of students in need of a coach, so why not share your skills and knowledge and help make a difference?