Qala version 2.9 is now available and adds some awesome and unique features for Qala and WooCommerce stores.
Qala is Angry Creative's productised platform for WooCommerce. Qala has the most common features we have seen that you need as an e-retailer, together with a modern basic design. Qala 2.9 is the next step in its evolution, with much more to come.
What's new in 2.9?
The primary focus of the release was adding the following feature plugins:
Qala Minicart
Qala Global Cart
Qala Network Reports
Besides the focus on these feature plugins, there is a TON of other stuff in here as well. As usual, we have a bunch of improvements, big and small. To put it in numbers, in Qala 2.9 more than 300 changes have been made to improve the product.
New feature plugins
Qala Minicart
The Qala Minicart plugin is here!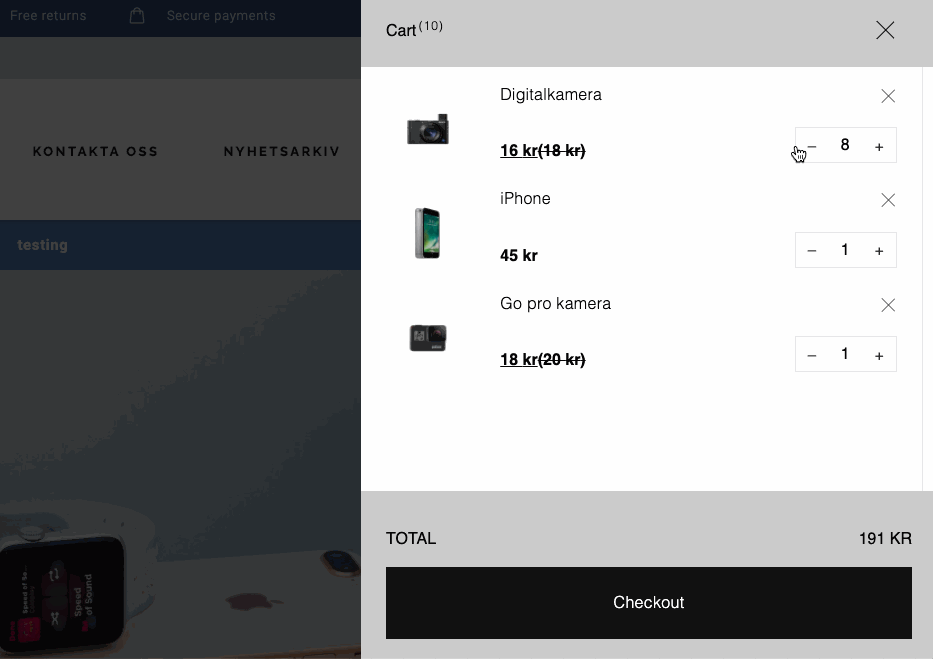 This replaces the need for a designated cart page entirely with all the functionality a cart needs at the tip of the customers' fingers. The plugin works out of the box with Qala but it is also built so that you can use it on any WordPress/WooCommerce site.
The design is very raw, it should be designed by the theme to look really fabulous. It should also be entirely compatible with third-party plugins etc. because it runs all the default hooks from WooCommerce.
Qala Global Cart
This feature plugin isn't doing much visibly but oh so much more in the shadows. When a client has a multinational e-commerce site they usually connect their content between the languages together with MultiLingualPress.
This plugin also makes sure that any connected products remain in the customers' cart if they switch shops. Here's the scenario:
The client puts 2 products in their cart. They go to checkout, they realise "uh oh, I'm on the wrong site!". Our Geo Redirect plugin suggests the correct site to them (tada)! When they move to the new site, this plugin grabs the corresponding products in that site and puts them into the clients' cart seamlessly. They can continue with their checkout!
Qala Network Reports
A nice little helper plugin for administrators of multinational sites that haven't connected their shop to an ERP. This plugin creates a network admin page where our clients can export all orders from the sites in their network as an aggregated spreadsheet.
They have the option to select specific sites, start/end dates, and order status and the plugin will create a nice clean CSV file.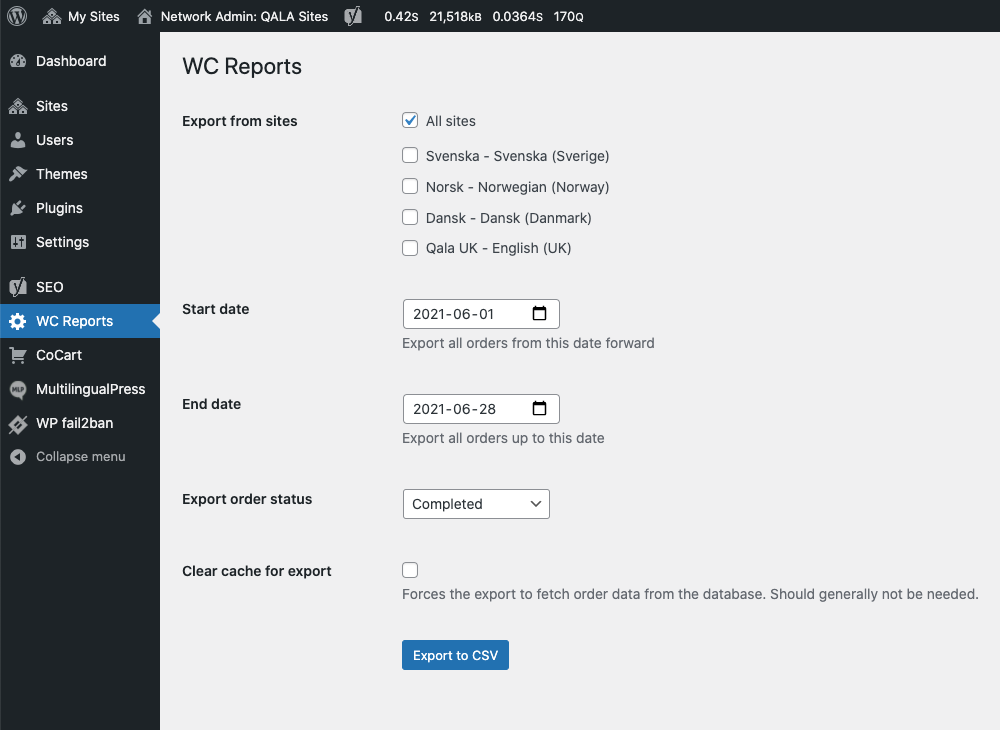 Other noticeable updates
Back in stock notifications
This third-party plugin from the official WooCommerce add-on repository is now installed in Qala per default. We have of course also added styles to it so it looks goooood in Qala.
Here's how it works in a few short steps:
Customers who land on a sold-out product page are invited to sign up with their email and get notified when the product becomes available.
When the product is back in stock, all customers who joined the waitlist receive an automated notification.
Customers return to your store and complete their purchases!
Check out the documentation for more info: https://woocommerce.com/products/back-in-stock-notifications/
What's next?
The next version of Qala is already on its way, and the work on making Gutenberg a part of the product is one of the focuses. With the high velocity development of Qala, you won't need to wait long for the next version to arrive.
Do you want to know more about Qala and what we can do for you? Contact us and we will help you on your journey to become a more sustainable and efficient e-commerce!