Google has marked EOL (End of life) for Universal Analytics, the version of Google Analytics that you have probably used in recent years. Even though the date is set for July 2023, it is high time to start thinking about setting up the new Google Analytics 4 right now.
The recommendation we give right now is to continue using Universal Analytics (UA) as a complement to Google Analytics 4 (GA4). GA4 is still under development, which means that all the features you may need are not yet implemented.
What's new in Google Analytics 4?

The new version of Google Analytics means a bit of a shift in how you will use Analytics in the future. In GA4, the focus is on raw data and events that can be measured and compiled across several different platforms.
This means that GA4 will become more of an analysis platform that creates raw data for which you can then choose how you want to analyze and create reports. It will give users more freedom to choose which data to produce for analysis and provide better opportunities to analyze data as a whole, but it also means a steeper learning curve.
Event, event and event
When it comes to Google Analytics 4, Event is something you will hear over and over again. This is because they now largely refrain from using cookies and instead make all measuring points an event. This means, for example, that things like sessions, bounce rates, etc. will be handled as events from now on. Just like it works for a contact form conversion.
This introduces several common events from Tag Manager in GA4. Some examples are events for scrolling, clicks for external links, on-site search, and more.
Tag Manager will not become obsolete with this, but you will be able to handle many common events directly in GA4.
Reports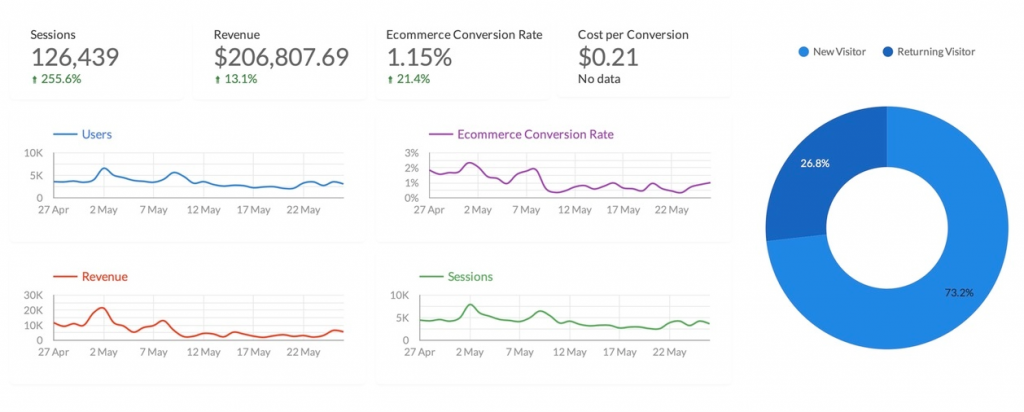 The concept of the new Google Analytics 4 can be seen as based on a blank piece of paper where you as a user can build up what data is to be collected and how it is to be presented. This means that the many different predefined reports available in Universal Analytics will no longer be available in GA4. It is instead you who chooses which reports you will want to create for which data. It will be a little harder to get started, but once you get started, your reports can be much better optimized for how you want to analyze your data.
Help with implementation and training for GA4
We understand that it will be many new things to learn with Google Analytics 4. But you should not wait to implement it. You do not want to be left with incomplete data when the Universal Analytics EOL comes into force.
We can help you implement the new Google Analytics 4 and set up the events and reports you need for your conversion optimization. We use Google Data Studio to create the reports, to get you beautiful, interactive reports that will help you make the right business decisions.
We also offer basic training to get started with GA4. You can concentrate on doing what you do best and we can help you with what we do best.