You have actually been here for 6 months now so we can start by saying congratulations that you have just finished your probationary period!
Thank you, thank you so much!
How does it feel? Have you become comfortable in your role?
It feels fantastic, it's really fun! I feel that I have developed a lot, especially compared to where I was six months ago. Of course, my self-confidence is completely different, it has become much better, but then also my knowledge of the products and our services.
How fun! But let's start from the beginning. CSM is short for Client Success Manager, can you describe the role and your duties?
Good question. As I see it, I do many different things. I am partly a business developer, partly a project manager and also someone who holds the customer's hand and helps guide them throughout.
A CSM is the contact person and you come up with suggestions for solutions to problems. You are also involved in the entire customer journey, from an enquiry and making initial contact to them choosing to work and collaborate with us to us starting the project, building their website and completing it to going live. Plus we proactively always come up with ideas on how we can continue to develop the platform for them to increase their success.
It is very fun and more rewarding compared to when I worked as a salesman before and then it was very:
-Hello, do you want to buy this ad space?
-Sure, absolutely. Then you sign a contract and are never heard from again.
This is a lot a lot more fun. It's a lot more about building relationships. You want to build a relationship for real, deliver the value they need, and not just be a superficial contact.
What are the benefits and the big difference between being a Client Success Manager instead of an Account Manager?
You do not get this ringing the bell and just get the sale. You are able to follow the entire journey and build relationships.
What has been the most fun project you have worked on?
All projects are fun and unique, but Filterteknik stands out as a lot of different solutions are often required because it is created in Laravel, which makes it completely custom. This also means that you have a closer relationship with the customer because many of the challenges require close cooperation between us and them.
What did you do before you became a Client Success Manager?
I studied Marketing Management, a bachelor's program in Jönköping and have worked a lot with marketing. I had a very vague title but would call it some kind of Marketing Coordinator. It was a small company in Söderköping called Vallonmässing that makes candlesticks and the like. It was a craft company that I came across when they were just about to invest in building their own website. I got to be involved in building a Wordpress site from scratch to launch them online.
That sounds great!
Yes it was very fun. It is a small company and it's actually a friend who runs it, so I sat at night and built this site just because it was fun and I wanted to get it ready. It was great that I got to run my own project. Then I worked at Östgötateatern in the Marketing Department and then there was the pandemic. People did not want to go to the theater anymore so then I became a Math teacher at Komvux.
What type of teacher were you? Were you mean?
Well, it was at Komvux so it was at high school level for adults and almost everyone was a newcomer so you had to adapt the language a bit. It was special, I'm not an expert at math to be honest but totally okay for what was needed.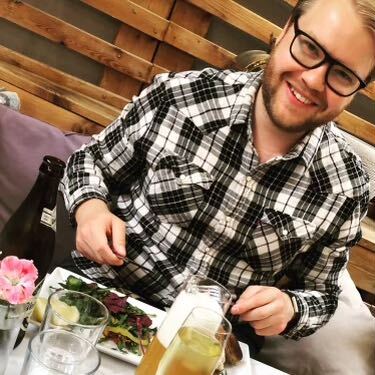 There was a small detour there then, but that's the last thing you did before you ended up here at Angry?
I was looking for a job… and since I studied Marketing Management, I felt that I wanted to work with something more in the tech field. I've always been fascinated by the Web Agency world.
I had some knowledge of Angry Creative, I had seen and heard about them before. I think I went to their website and checked if they were looking for a new employee. Then I had a meeting with them where they explained the role a little more and I thought:
"***t this sounds great!"
It is what I have wanted to do all along. It sounded really perfect to me and for me.
What is it that makes you a good Client Success Manager and what is it that drives you to do that little extra for the customer?
I love to see the customer grow and develop with our help and guidance. If I discuss something with a customer or if the customer has an idea, I think it's exciting and that I want to learn more about it. By learning it, I can in turn recommend it to other customers.
So there will be a constant exchange of knowledge
Yes exactly. I like this thirst for knowledge and to learn new things and it feels like it never ends. It feels like it's impossible to learn everything but it's fun trying!
Would you want to work with Adam?
We are now searching for a Client Success Manager to join our team
What does a typical day look like for you Adam? Is there anything that motivates you a little extra?
I commute, I live in Linköping so I usually take the train here to the office in Norrköping. I try to get away pretty early and like to have a little head start on the day. There is the morning meeting with the team, the commercial team and my unit. Then often internal meetings and a mixture of having meetings with potential customers or with someone who has been a customer for several years.
It's really varied. It's important for us to remember with a new or possible customer that they are not so familiar with how we work and therefore I'm mindful to make sure our processes and terms are clear.
On the flip side I could have a meeting with a customer who has been with us for several years and the conversation is then more technical and detailed. Depending on the client and project it might be a slightly different approach and process we use.
After a long day packed with all these meetings, what do you do to unwind when you get home? Do you have a hobby?
It depends, now in the winter it is boring so I watch a lot of Netflix. I'm actually going to be a dad in April so it's a lot right now, there's a lot to fix and assemble, like screwing together a cot and so on.
A lot of preparation, we guess with shopping and fixing before the new addition comes?
Yes, a lot of baby stuff. It's what my life revolves around right now. In the summer it can be a bit of tennis, hanging out with friends, badminton, paddle, a lot of racket sports actually.
Angry Creative is remote first, but you are often in the office. What do you see as the benefits of being able to choose between the two?
It is flexible. I really like being in the office and it was very important to be able to do that when I first started. I was able to discuss things and ideas adhoc with colleagues and above all ask questions.
But it's great to be able to have the alternative, to be able to work remotely, to be able to work from anywhere, and it's clear that sometimes it's nice to not have to commute. All of January I worked from home but it was because of the pandemic, because we were not allowed to be in the office and that worked really well too as we're set up to be remote.
Our last question, what would you say is unique or different about working at Angry Creative?
There's a lot of personal responsibility, you are encouraged to develop and learn more, and that it is a very helpful atmosphere. You are encouraged to ask many questions and it may sound a bit cliché but I really get the feeling that they want you to succeed. They are very mindful of us not to work too much. If you've worked many hours one week, you can take a day off and that is where the flex comes in so it is very good. You're encouraged to have a healthy work life balance.
I have never been to an agency job where you register the hours in this way but it becomes very clear it's because they genuinely care about the employees and at the same time wanting you to do well. They care about one's mood, both mentally and physically. It's really something I've not experienced before, that they think a lot about the staff.
That sounds very positive! We have also felt that the energy at Angry is very good and open to everyone.
And transparency too! You are informed about everything and everyone talks to everyone. Unlike in one of my previous workplaces, where you barely talked to your boss. I can really say that you are encouraged, to have contact, to have meetings and to have a good atmosphere. There is a good atmosphere in all slack channels (our communication tool), you help each other and talk a lot with each other.
Then we thank you for this chat Adam and wish you good luck in your future role as a father!
Would you like to know more about our CSM team at Angry Creative?