David Lockie: Thanks for making some time to talk to me today! Let's start at the beginning. How have you ended up working in marketing?
I've always been interested in working with marketing. Ever since I went to high school. I was actually studying economics at high school. From there, there seemed to be two different directions – one is marketing and the other one is accounting so I always chose marketing. Marketing lets you be so creative and I think that it's fun to work with marketing.
DL: Awesome. And so you are interning with Angry Creative for three months doing a project on analytics measurement plans with me, which is pretty tough, it's been quite involved! Is it about what you were expecting from an internship? What's been different from what you expected?
To be honest I actually really like the setup because before, even when we had an interview with you and me, I asked you all the questions and you were very clear with the measurement plan, which made me feel like, "Oh, hey. So, this will work well because we already have a plan" and you had already set up approximately what every week would look like and so I felt very secure. I felt like it could work well and that there was a structure in it.
DL: And is it about what you expected? Has it been a bit harder or a bit easier?
Well, I guess the first few weeks were pretty hard because you were away and you gave me a lot to do! But I guess it's just because you wanted me to have something to do while you were away, so I don't mind that. So it was a little bit a lot, but nothing serious. I'm just the kind of person who likes to finish my tasks and so, yeah, I felt like there was a lot to get through! But even if it's a lot I think it's good for me because I feel like I learned a lot.
DL: Cool. And so, let's imagine that I am a student currently, and I'm looking to do an internship. What would you say is different in your day to day experience between being in education, and being in a business environment? What have you had to get used to?
Definitely the routines and planning: what you have to do during the day. It's quite similar to school, but there's less learning and more practically, just working with it. I feel like I can ask you anything I'm unsure about which is very good because you're available. So, I think it's good. We've been working on things together that I didn't know about before [ed: we've been working on Google's Help/Hub/Hero content strategy a lot], so it wasn't just me, so it was very new and helpful.
DL: So it sounds like it's a bit less structured, a bit more practical and like quite a lot of learning.
Yes. I like it because I feel like I can grow here.
DL: That's a good lead on to the next question which is: let's say you finish your school. What would you like to go and do with all this, all your skills? What would your dream job be after, after school?
Well, I think this is very fun because you analyse everything and then you're trying to find a solution for everything. It's so interesting how the for example customer behaves and how to find ways to bring customers in. These are the problems I like to solve. So, absolutely, I would like to continue doing this.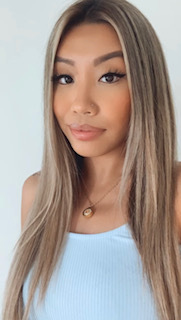 DL: Can you walk us through a day in your life? Tell me what's a day in the life of Isabella during the internship.
Well, I wake up. I prepare myself and then it's flexible hours so sometimes I try to wake up before 7 am and start working at 7 am so I can be finished by three but often I will start at eight and get finished at four. On Mondays or Wednesdays, I have meetings with you, so on those days, we'll have a meeting. Before that, I will prepare and see what I have planned throughout the day, what I should do. Then I get on with my tasks. If I really don't understand I will ask you, or else I would do some research, and then go back to the work I'm doing. I do like my day to be structured so I enjoy this way of working. I like that we had a plan before, and the introduction of the company; the agency and the product itself. So I know what I'm doing but also why I'm doing it.
DL: What do you do outside of your kind of work? Do you go out for a run or what else?
Okay, so after I finish my work, I go to the gym actually. If I don't go to the gym, I work extra – I have a job at a furniture and decoration store so I can usually work extra hours there. The gym helps me to think clearly and I feel better after working out, so I love going.
DL: What sort of things do you like doing in the gym – do you lift weights or are you more into cardio?
Yeah, I lift weights, I'm pretty strong 😂 I would say maybe not that often my upper body, but my legs get a lot of workout.
DL: Is that helpful when you work at the furniture store? Are you lifting up tables and showing up the guys?
I handle orders, thankfully, and I and all the other stuff at the register. So I don't need to lift anything at work!
DL: Nice. So let's say you've had a long day at work and you've been down the gym, how do you chill out in the evenings?
I wouldn't really start watching a series because I would not stop watching it! But I sometimes click around on YouTube, watching some video clips of people vlogging about themselves and their lives.
Sometimes I actually go out with friends. Actually, they're dropping lockdown restrictions here in Sweden tomorrow, meaning you can be out. Everything closed early before but now everywhere's opening back up fully. I don't actually have much spare time: I'm trying to balance everything: my internship, the gym, my school work. Yeah, so that takes all my time.
DL: Sounds like a good balance! Well, thanks for telling me about your day. Is there anything else that you would like to say to people that are thinking about doing an internship or thinking about getting into marketing?
I would like to say that I'm very happy with being here and thank you, I'm grateful! I've actually been asking my classmates about their internships. We have been talking to each other and I think that most of the places are not as structured as I have, which I'm very happy for. I like to have everything planned and documented. And I think you and I get along and we are working well together so I think it's great. Everybody's very welcoming, very nice. And I think that we will actually get a lot of work done. I've been getting a lot of ideas. So, I'm happy and if you're happy, have a happy surrounding, everybody is welcoming of course you're going to get inspired and motivated to do better. And so, I am motivated to work harder, you know, to see what I can do.
DL: That's pretty nice to hear! I'm glad you're having a good time. Thanks for sharing this all with us today!
if you're the kind of person who wants to work with a WooCommerce-focused company that likes to analyse stuff, please do find out more and get in touch!