Digital conferences, events and meet-ups are everywhere, and as a job hunter, you'll be hard pushed to find a better opportunity to get in front of potential employers. Whatever your chosen area of interest, you can find a specialist event that focuses on the topics you love, and spend an evening, day or weekend socialising with your peers and future team mates. Here we explore 10 ways to maximise your chance of finding a job in digital at a conference.
1. Choosing the right event
We've all sat through the odd talk that wasn't what you thought it would be. However, this should be the anomaly not the norm, so make sure you do a bit of research into the conference content. Remember, the job of conference organisers is to sell the event, so delve deeper than the flashy email campaign and see if the content matches your expectations.
Do the speakers have any videos online?
Are there any reviews/write ups from previous attendees?
Has anyone in your network been before?
2. Advance preparation
Research the attendees, sponsors and speakers. If you can find out who'll be there, checkout their LinkedIn profiles or website team page so you can spot them in the crowd. Checkout the We're Hiring pages of the companies you like the look of, but don't be put off if they aren't advertising a specific job – many will still be happy to have a chat, and you may even get to the front of the queue for a role they haven't posted yet.
Find some interesting projects your target companies or individuals have worked on and go armed with some conversation starters. "I'd love to chat to you about exciting project A" is far better than "what do you do?".
Which companies will be there and who will be representing them?
What jobs are they advertising?
Which projects have they started that they might need support on?
3. Use social media
A couple of strategic follows, likes and comments will start the conversation ahead of the event. A developer once sent me a tweet before a WordCamp that said "Pint on me at the after party, would love to chat to you about working with you". This 30 second tweet catapulted this applicant to the front of the queue, and not just because he offered a free drink! We haven't even got to the event yet, and already you're engaging with the people who could be your potential team mates!
4. Find the networking spots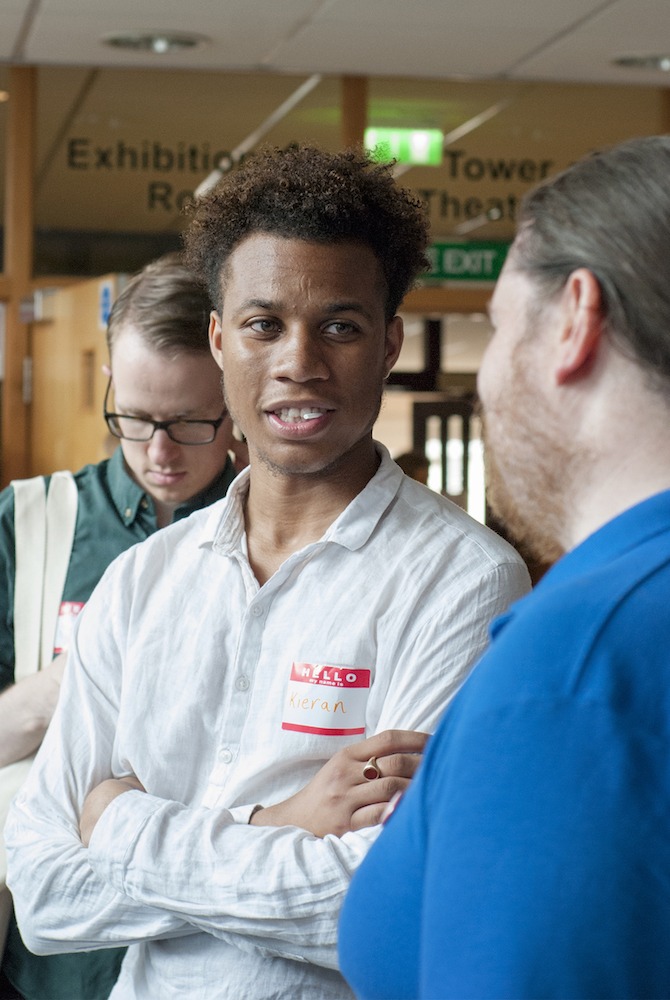 Networking is loved and loathed. In some people's minds the term conjures up images of suited business people circulating a stuffy room thrusting business cards in each other's palms. Thankfully, at most digital conferences, networking comes in a variety of forms. The key is making the use of the small amount of time you have:
After a talk, if you can get to the front of the hoards of people trying to chat to the speaker, this is a great time to show interest, plus they'll be buzzing!
Chatting over a coffee or lunch during a break
Visit their sponsorship stand
Jobs boards – there are often white boards where people can share opportunities and let people know they are hiring
Fringe events or tribe meet ups – there are often specialist get togethers that focus on one topic
Contribution or hack days – a great way of showing off how you tackle issues and skills you have. Don't be afraid to mention this to potential employers
Playing vintage arcade games together at the after party
Networking bonus
I once attended a networking breakfast, where a gentleman circulated the room, dropping business cards onto everyone's breakfast plate without saying a word. He left immediately afterwards. He certainly made an impression (I remember his performance after 10 years), but not a good one. One of the fellow breakfasters said, as they tore up the business card, "remember, networking isn't about introducing yourself to as many people as possible, it's about how many people you can introduce to each other." So, the more useful you can be for others, the more likely they are to recommend you to someone else down the line. It feels less 'salesy' and helps build a strong network. Don't be afraid to ask for that recommendation in the future too!
5. Present yourself
Prepare your Twitter, LinkedIn profile, Github repo, online portfolio or anywhere else someone might stumble across you online. Sound positive and enthusiastic about searching for your next role in your bio. For example, if I search for someone I've met at a WordCamp and their Twitter feed is full of resentment to current employer (it has happened!), I'm unlikely to be inspired to get engage. Whereas, if a candidate has a positive message in their bio (something like: Looking for my next challenge as a front-end developer, view my favourite projects here…) and a load of positive tweets, it's much more likely we'll get in touch.
What are you offering?
How will someone follow up with you?
6. Do more than just attend
There is always a call for organisers, volunteers and speakers at conferences. By taking on these roles you're helping yourself become more visible. It's a fantastic way to get deeper into the community and increases opportunities to meet more people. Failing this, engage on social media using the conference hashtag to show your support and start conversations.
As a speaker you'll be even more visible. If you're speaking passionately about your specialism, you'll be a prime target for people looking to hire. Make sure you include link to your personal site or social media that has a big "Work with me" notice!
Are there volunteering opportunities?
Can you sneak in a Work With Me? slide in your talk?
7. Be remembered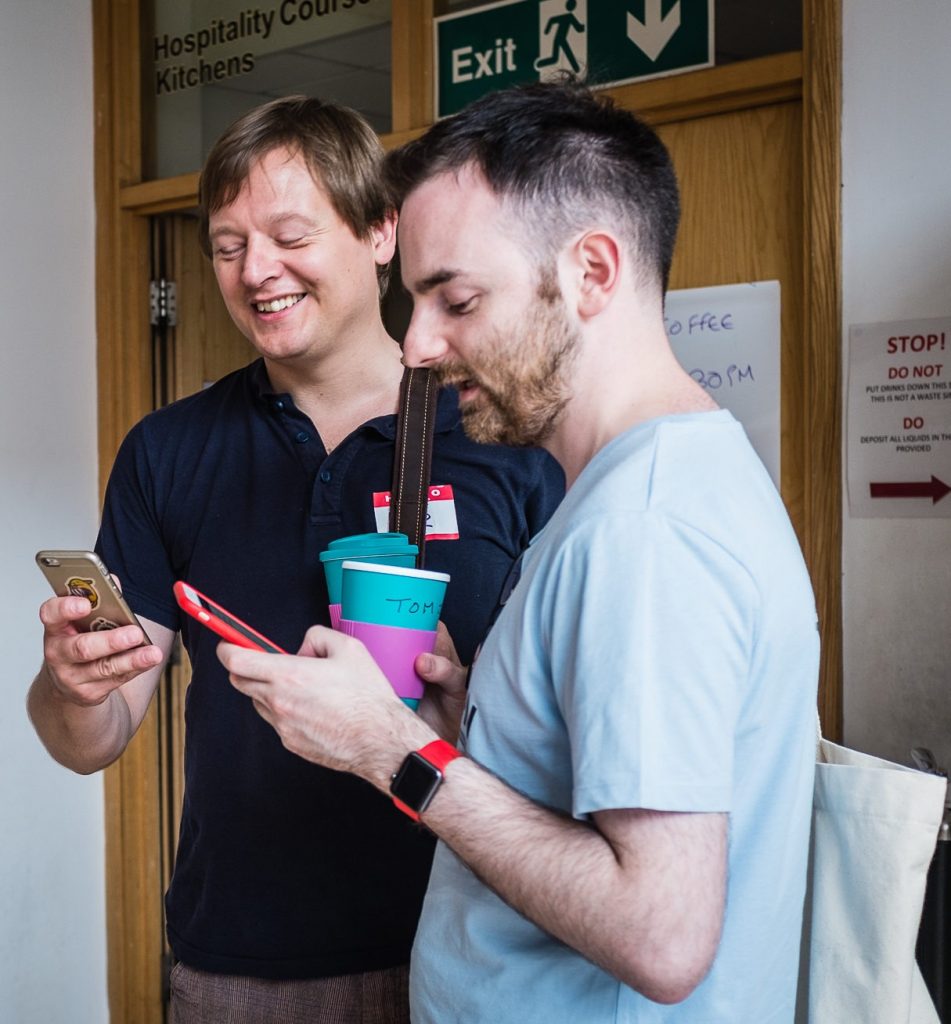 If there are a few people from one company at the event, engage with them all to encourage the Monday morning "oh you chatted with her too, she was great" conversation at your prospective employer. At WordCamp London 2017, one developer introduced themselves to so many people, and beat our boss at pool, everyone assumed he had already got the job!
8. Follow up
Strike while the iron is hot and while people are still on a high following the event. The longer you leave it, the less chance of a response you'll have. If you don't get a positive response straight away, don't fear! Be at the top of their list, and check-in at regular, but not annoying, intervals. Follow the company's social activity to keep up to date with what they are doing. Follow a new job post, or a new case study on their website with a simple comment or like. This shows you are interested and can remind them to get in touch.
9. Share experiences
A great, non-intrusive way to connect with people after the event is to share your experiences via a blog post or sharing photos. What you share may be a perfect way of showing a potential employer your personality and what you might be like to work with (so that 2am photo from the after-party dance floor may not be the best to share). You can let people or companies know they feature by @ mentioning them on Twitter, their social media manager will be happy for the engagement!
10. Prepare for the next one
Make a plan for your next event based on your experiences.
What went well? What didn't?
Did you speak to the right people?
Are there any follow-up events or regular meet-ups you can attend?
In summary
Conferences and industry events are the best places to meet the people you want to work with. Work out who you want to speak to, plan your approach and know what you want to get out of the interaction.